Because:
– you love cooking and you want to have everything at hand
– you want your kitchen to be functional and ergonomic
– it's an optional which can't miss in your kitchen
– it's a modular system that can house all the accessories you need
– you want to have everything organized and well-ordered
– it allows you to cope with all the needs you have due to kitchen's structure [for example, you can't install to put wall units because you have a window in the way]
– it's a design element, enhanced by the high quality of steel features.
Which models can you choose from?
– Welded/integrated accessorised channel, in order to have an uninterrupted worktop: it can be elevated or placed through some holes directly on the worktop.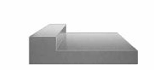 – Flush, so you can have the same comfort even if you chose a different material for the worktop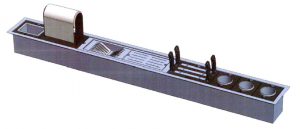 – Mobile – the real revolution in the kitchen – in fact it is provided with automated mechanism, operated by remote control or through your smartphone. Just a click away!